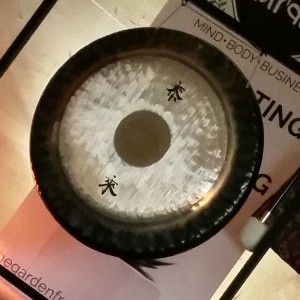 Many students grow to love the gong when we use it during the long relaxation towards the end of the class. In fact, sometimes we wonder whether people come for the gong rather than the yoga.
The good news is that there are more options for you if you're one of those who wants more. Many Kundalini Yoga teachers band together and provide regular gong 'baths' (think bathed by sound, like being bathed by light). The gong baths generally feature a number of different gongs of different styles.
These gong baths are held all around Melbourne, so they are not hard to find. There are even gong pujas, held all night long. Our colleagues at Kundalini House, in North Fitzroy, hold gong pujas regularly.
Here on the Mornington Peninsula, we run regular gong baths at Kundalini Rising Yoga, in Warneet, which is near Tooradin. We have several gongs, set up in a beautiful purpose-built yoga studio. After some gentle yoga, you are invited to lie down and enjoy the vibrations of multiple gongs for 45 minutes.
Because these sessions are popular and we have people coming from as far afield as Seaford, Mount Eliza, Tyabb and Mornington, to name a few, we recommend booking for these sessions.