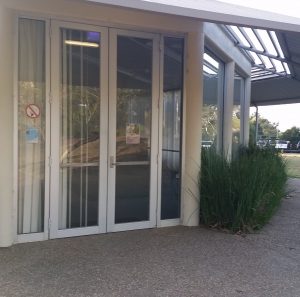 "Yoga studio" might be a loose description. After all, we gather at the Meeting Room of the Mt Eliza Community Hall, not at a purpose built yoga studio. But every Tuesday evening, we make it our own, and it feels fine.
So, what's this post really about? It's not just about the definition of the term "yoga studio". The real purpose is to help you find it – the building has a lot of doors and we want you to be able to find the right one and join us.
The one to look for is around the back of the hall, near the extensive car park. Just follow the path from the main door at the front or, if you have parked at the rear, go directly to the meeting room door. These photos should help identify it but, if it's your first time at our occasional yoga studio and you can't find the entry, just give me a call.